Hydrogen mobility is increasingly a reality and the Portuguese manufacture that pioneered Zero-Emissions mobility led sales of electric Hydrogen-powered buses in Europe. In the first half of 2023, it had a market share of 32% with electric hydrogen-powered buses delivered to Germany, France, Spain and Portugal.
CaetanoBus is strengthening its position as one of the European leaders in sales of electric hydrogen-powered buses, demonstrating its dedication to the energy transition and decarbonization of several cities in Europe. In this context, CaetanoBus has emerged as a prominent and pioneering company in the production of hydrogen-powered buses, with the launch of its first bus in 2020. Currently, CaetanoBus is presenting in Brussels exciting innovations in the field of hydrogen mobility.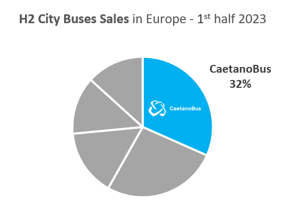 The German market, recognized for its leadership in sustainable mobility, continues to be one of the most developed in hydrogen ecosystems. However, the growing interest of other European countries is equally notable and CaetanoBus has recently established contracts with important European transport operators, signing the largest framework agreement ever in Europe for electric hydrogen-powered buses with Deutsche Bahn in Germany, a framework agreement for Strasbourg in France, supply contracts for EMT Madrid in Spain, Bolzano in Italy, Cascais in Portugal and more recently to Leverkusen in Germany.
CaetanoBus is now presenting at Busworld in Brussels the Caetano H2.CityGold with the new generation of Toyota Fuel Cell Stack even more efficient and powerful. CaetanoBus Engineering team is also innovating as well as by implementing a heat recovering system that transfers the Fuel Cell Stack heat release during operation to the interior of the vehicle improving the heating performance during the winter with a great impact in reducing the energy conception, which will directly lead to less hydrogen consumption and improve TCO (Total Cost of Ownership) of a Caetano Hydrogen fleet. Caetano H2.CityGold is well known in the market by its lowest hydrogen consumption, so CaetanoBus is consistently following the commitment of developing sustainable mobility solutions. The newest vehicle is also offering battery capacity from 44 to 80 kWh to provide additional flexibility to operators with highest average speed in their routes.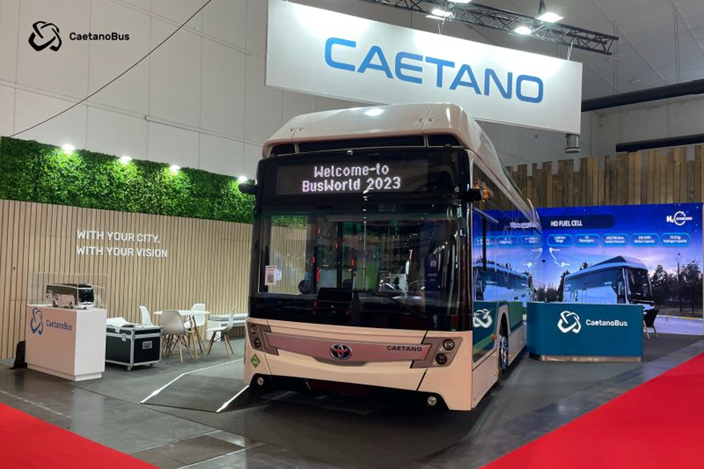 CaetanoBus is also presenting in Brussels the recently announced joint development Hydrogen-powered Coach with Temsa. Another important step forward in the development of sustainable mobility solutions to scale up the hydrogen ecosystems in Europe, this time for long-distance operations. The collaboration between CaetanoBus and Temsa has led to the development of an exceptional electric hydrogen-powered coach that can be refilled with hydrogen at 350 or 700 bars (H2 Dual System) offering unique flexibility for the operator to refill the vehicle in any available hydrogen refuelling station in the route without any constraint. Another important characteristic of this H2 coach is the autonomy with a single refilling of up to 1000 kms.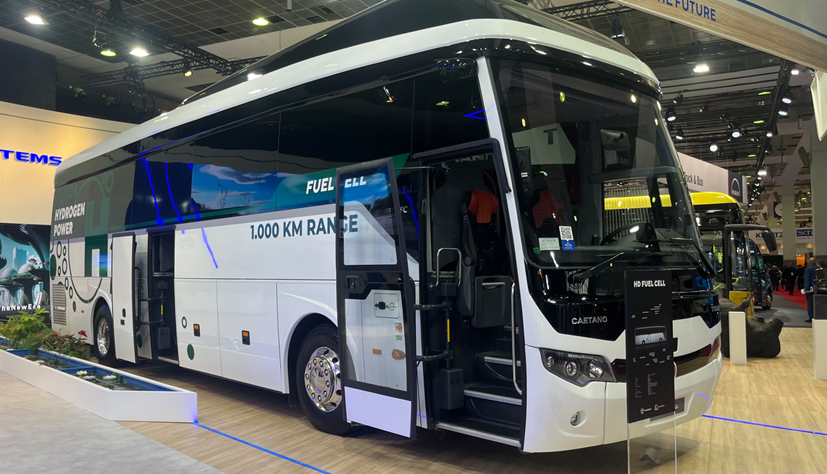 Brussels is also hosting this week the ZEB Conference and the CCO and Executive Committee member of CaetanoBus, Nuno Lago de Carvalho, is one of the special speakers that will delve into the thematic of economics of Hydrogen mobility, Fuel Cell Buses advantages and explore strategies for creating sustainable and strong business models, as well as innovative financing approaches that change the dynamics of asset ownership, through the One Stop Shop offer that will further support the hydrogen ecosystems in Europe.