RATP France will test Caetano H2.City Gold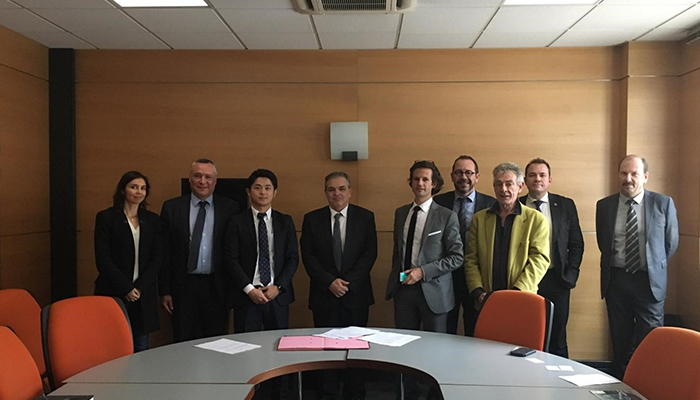 On the 25th of November, CaetanoBus and RATP have signed a cooperation agreement at RATP's facilities, in Paris. The operator responsible for public transport in Paris will test the 12m H2.City Gold as of August 2020. H2. City Gold is Caetano's new hydrogen-powered bus, fitted with Toyota fuel cell technology.
Paris' climate action plan mobilises its citizens and stakeholders to make Paris a carbon neutral city powered entirely by renewable energy, by 2050. Embracing this vision, RATP is moving towards a zero-emission fleet. RATP's commitment, together with Caetano's awareness of the Parisian need for urgent energy transition, has encouraged this collaboration.
"CaetanoBus aims to create all the necessary conditions to accelerate the deployment of zero emission buses, empowering cities to change to zero-emission mobility. France is a key strategic market for CaetanoBus and a partnership with RATP is a great opportunity to strengthen our relationship with the market leader in urban mobility.", states Mr. Jorge Pinto, CEO at CaetanoBus.
RATP's comment: "This alliance shows that both companies are working together towards a zero-emission public passenger transport."
Expert in sustainable mobility, RATP is the fifth largest urban transportation operator in the world. With its 14 metro lines (including two driverless lines), 2 regional express rail lines, 7 tramway lines and 350 bus lines, the multimodal network operated by RATP in the Paris region is the largest in the world to be managed by a single company. Over 12 million passengers travel every day on this network.
RATP Group can devise, design and implement infrastructure development projects, operate and maintain networks irrespective of the mode of transportation (metro, regional train, tramway and bus) and develop innovative services to promote mobility (including passenger information, remote ticketing, pricing and customer marketing).