Interactive tourism mobile store takes the best of portuguese engineering and the North of Portugal to Madrid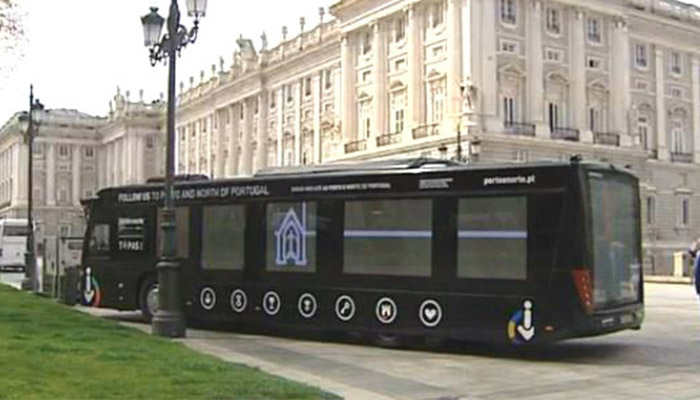 TOPAS (Tourism Public Auto Service) was developed by CaetanoBus, a company from Salvador Caetano Group, to the Porto and North of Portugal Tourism Entity with the aim of promoting its region.
TOPAS was between the 14th and 16th  April in Calle Bailén, Madrid, one of the main and busiest streets in Madrid. This mobile store was parked next to the Royal Palace, in order to promote the best tourist tips of Porto and North of Portugal. Launched in January of 2016, this interactive vehicle is an innovative project that resulted from the adaptation of an airport bus COBUS 2500 into an Interactive Tourism Mobile Store. The main challenge of this transformation was the application of technology and multimedia systems currently used in traditional stores of the Porto and North of Portugal Tourism Entity, on a bus. The final solution considered the implementation of a continuous LED panel on the side and rear of the bus, allowing dynamic widescreen images. The fact that the vehicle has a modular aluminum construction made the transformation of this bus easier.
TOPAS was born of a cooperation protocol signed in 2013 between CaetanoBus and the Porto and North of Portugal Tourism Entity. This vehicle marks the difference between the modern and innovative way of promoting the region and communicating with the tourists. It also shows the high technical capacity of CaetanoBus to develop unique mobility and engineering solutions focused on its customers.
After being parked in Calle de Bailen, Madrid, this interactive mobile store will be in other destinations.