CaetanoBus launches Luxury Double Decker Bus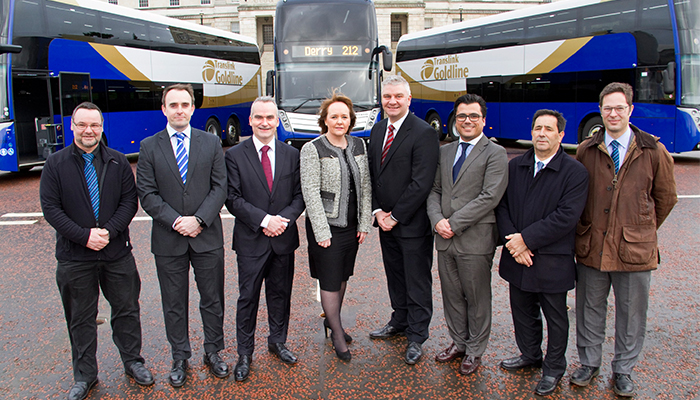 CaetanoBus has just launched the new Double Decker Tourist Bus, a model for the premium segment, on a Scania chassis. Translink (Northern Ireland) shall purchase 36 units of this model, and the first 12 have already been supplied, having been produced in the last semester of 2015. The production of another 12 units this year has been forecast and the remaining 12 will be produced in 2017.
CaetanoBus, a Salvador Caetano Group Company, dedicated to the design and manufacture of buses, presented, in Northern Ireland, in partnership with Scania, a new Scania Caetano Double Decker Coach, at a ceremony that took place in Stormont and included the presence of Public Entities and the Government of Northern Ireland. The official presentation took place after the delivery of the first batch of 12 units to Translink, one of the main road operators of Northern Ireland, in a business that includes 36 units. The production of another 12 by the end of the year is expected for this same client. The vehicles will operate at Goldline, one of the main Irish road transport lines, which operates the route between Londonderry and Belfast.
The Scania Caetano Double Decker Coach marks the difference in the luxury tourist bus segment. With the European market in mind, this double decker bus is aimed at tourist and inter-urban transport services. With a capacity of 76 in this 13.2-metre version, and combining two different Scania chassis models, the vehicle is noted for the development of its aluminium Caetano chassis, a benefit in terms of resistance to corrosion and reduction in weight, resulting in low fuel consumption. Note that this model is equipped with a fuel tank with a capacity of 500 liters. The body is mounted on the Scania 6×2 chassis, where the front module is a KUB, the rear module is a KEB, and the engine is a Scania DC13 410 CV, with an opticruise gearbox. The differentiating factors also include accessibility for the driver and wheelchair users, unique in this segment.
The development of this modern and luxurious Double decker bus establishes the entry of CaetanoBus into the premium market, based on the quality of materials and the modernity for passenger public transport. The Company has in perspective the development of a longer unit, approximately 14 meters long, and a 4 meter high version, both in RHD (right-hand drive), and in LHD (left-hand drive).
With the commitment to the Scania Caetano Double Decker Coach, CaetanoBus once again shows its high technical know-how and its capacity to develop highly innovative projects, oriented to new markets.