Caetano electric buses are now running in London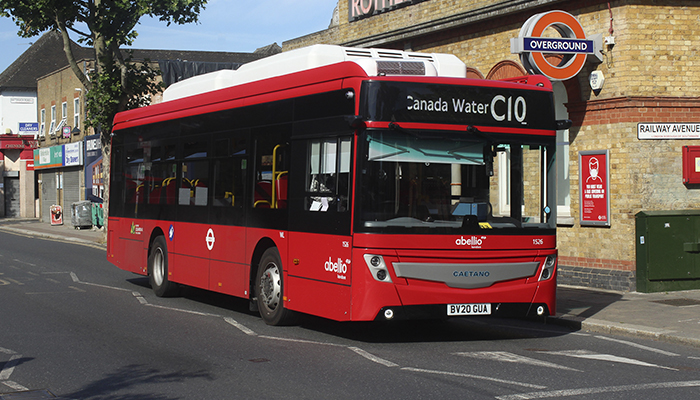 Two bus routes convert to fully electric operation using Caetano e.City Gold at Abellio London.
Abellio London, who operates 800 buses on behalf of Transport for London (TfL) recently launched its first fleet of full-electric buses in London. The fleet of 34 Caetano e.City Gold zero emission buses from CaetanoBus commenced operation on the London routes C10 and P5. The new Caetano buses will further help improve air quality across south London, supporting the Mayor of London's commitment to improve the city's air quality and help towards being a step nearer to total zero-emission vehicles on the UK's roads.
The 10.7m Caetano e.City Gold are fully compliant with TfL's latest specification delivering a step change in safety, driver and passenger comfort, including a number of features from the rigorous TfL bus Safety Standard such as a Camera Monitoring Systems to replace traditional wing mirrors, Intelligent Speed Assist, Acoustic Vehicle Alert System and a revised front design to improve pedestrian and vulnerable road user safety. The Caetano e.City Gold is a 100% electric urban bus that includes zero emission heating.
The positive feedback on Caetano electric buses from Abellio's drivers and operations team has been highly appreciated, describing the buses as "magic", "a dream to drive" and "so cool". Just as important were the comments from passengers including, being very pleased about their experience, one describing the Caetano buses as "amazing", "spacious" and "very nice". Abellio's Twitter has also received phenomenal feedback including such comments as "10/10 for comfort!" and "I really love the C10 & P5s Caetano e.Golds!".
The project also represents a proud and significant moment for Caetano as it marks the first use of Caetano's electric buses in the United Kingdom, a strategic market for CaetanoBus, where it has been supplying buses and coaches for more than 50-years.
Caetano is also providing a maintenance contract as part of the support package for Abellio, as well as fully supporting local delivery of a full aftercare support and spare parts to all Caetano vehicles sold in UK.
"Abellio is delighted to become the first operator of the Caetano e.City Gold in the UK, allowing the conversion of two bus routes in London to full electric operation.  The vehicles have been well received by staff and provide a quality solution for future use as we move to convert the fleet to zero emissions" – said Tony Wilson, Managing Director at Abellio London.
"TfL and Abellio are committed to improving air quality and bus safety in London. We are very honoured to contribute to this forward-looking commitment through the delivery of our electric buses" – said CaetanoBus Sales Director, Kohei Umeno.