CaetanoBus electric buses will soon be running in Germany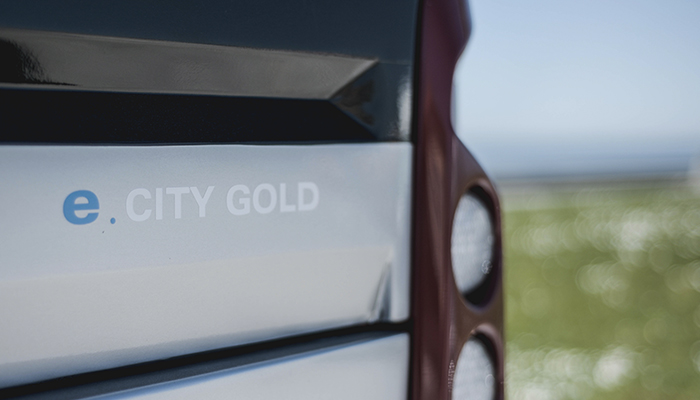 Public transport company In-der-City-Bus GmbH of Frankfurt, Germany, chose Caetano to deliver two electric buses
Public transport company In-der-City-Bus GmbH (ICB), a subsidiary of Stadtwerke Frankfurt am Main group, has placed an order for two Caetano 12-meter low-floor full electric buses to be delivered later this year. These will be the first e.City Gold units to be running in Germany, strengthening Caetano's presence and positioning in this strategic European market.
The German operator has ordered the Caetano e.City Gold as a 12 meter version with three doors offering a capacity of 34 seated passengers. The 100% electric e.City Gold model is equipped with a 349 kWh batteries pack providing an autonomy of more than 200 kilometers. These buses will be developed to fully comply with all the requirements of Frankfurt Public Transport Authority.
The e.City Gold units are part of Caetano's portfolio of zero-emission vehicles for urban mobility, many of which have already been delivered to several Portuguese cities and recently also to London.
"One primary goal of the City of Frankfurt is to convert urban bus transportation and thus the entire ICB bus fleet to alternative drive technologies by 2030. With the Caetano Bus models, we are adding a new manufacturer to our fleet. We are delighted to be taking a further step towards environmentally friendly, climate-neutral mobility in our city," said ICB Managing Director Christian Schaefer.
Kohei Umeno, Chief Commercial Officer for CaetanoBus, said: "We are very proud to deliver our first e.City Gold units to Frankfurt, a major city that is moving towards a clean and 100% emissions-free urban public transport system. This project represents the first Caetano electric buses in Germany, and CaetanoBus will continue to reinforce its presence in this market as it is one of the European leaders in the decarbonization of bus fleets."