moBiel GmbH orders its first hydrogen buses from Caetano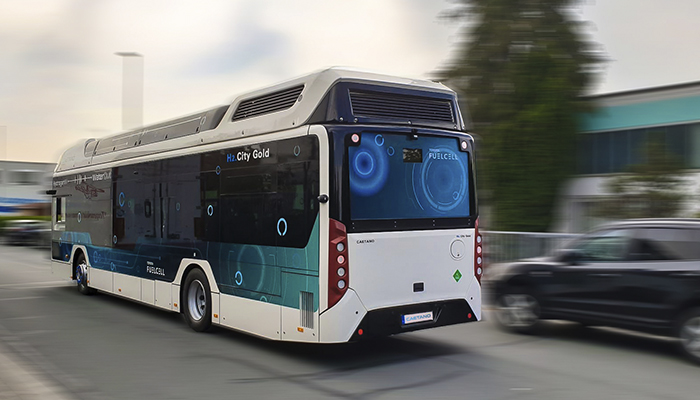 CaetanoBus was selected as the supplier to deliver four hydrogen buses to Bielefeld's Transport Company in Germany.
The moBiel GmbH, a 100% subsidiary of Stadtwerke Bielefeld, is a public transport company in Bielefeld, and operates more than 70 bus routes. Recently has confirmed the order of four Caetano hydrogen buses to fulfill its objective of contributing to world's environmental and climate protection.
The operator in Bielefeld opted for a low floor H2.City Gold in 12m form with 2 doors to be delivered in 2021. The buses will be fitted with a Toyota fuel cell stack and a 44 kWh battery pack in order to offer a drive range over 400 kilometers. The high drive range of the buses will allow a simple fleet management as the operators will not have the need to adjust their daily operation previously designed for diesel buses.
To increase passengers' comfort, these vehicles will be equipped with 37 seats and a modern air conditioning system with heating pump. On the other hand, due to the similarities to conventional vehicles, Caetano hydrogen buses will offer a simple, modern and friendly driver's interface to allow an easy adaptation to the driver and provide a straightforward user experience from the start.
"The benefits of hydrogen bus are evident. Being the first supplier of hydrogen buses for moBiel GmbH is an enormous recognition of our accomplishments in the zero-emission mobility field. We are very honoured to be able to work with moBiel in this change for green mobility" says Kohei Umeno, Chief Commercial Officer of CaetanoBus.