Caetano presents its vision of future mobility at Busworld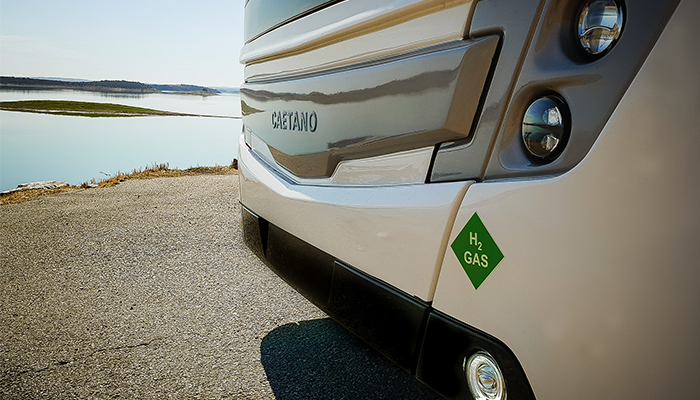 Caetano strives towards the improvement of city transportation and to ensure a better future for urban populations. City networks require cleaner, safer and economically sustainable transportation. We have the dream to combine our growth with urban sustainability and to build the future of cities with our partners. We can proudly say that we are prepared for the future of mobility with a wide range of zero-emission solutions.
At the exhibition in Brussels, Caetano will display the e.City Gold range. The 10.7m and 12m, LHD and RHD models, will both be showcased.
Aware that each city has its own unique traits and challenges, CaetanoBus has expanded its zero-emission product portfolio with the development of a hydrogen bus, H2.City Gold. This brand new bus is yet another way to enhance environmentally friendly fleets by complementing battery-powered vehicles.
This is our best contribution to a future shaped by sustainable mobility solutions worldwide.
Caetano e.City Gold: Your city, our technology
Caetano e.City Gold is the 100% electric urban bus fully developed by CaetanoBus. The vehicle is the result of the combination of the renowned experience in the development of urban buses with aluminium bodywork and the new generation of Caetano vehicles with environment-friendly motorization.
This is a modular low-floor bus that meets the mobility and sustainability needs of cities, standing out for its passenger capacity and user-friendliness. It is designed to provide a simple user experience from the start for both driver and maintenance teams. Available in LHD and RHD versions with 2 or 3 doors, power up to 180kW and adapted for people with reduced mobility.
The RHD version on display is equipped with innovative technological solutions, meeting the safety requirements in the market. This vehicle includes several advanced safety features such as Camera Monitoring Systems to replace traditional wing mirrors, Intelligent Speed Assist, Acoustic Vehicle Alert System and a revised front design to improve the safety of vulnerable road users. All of these to meet the requirements of Abellio London's recent order which will integrate 34 CAETANO e.City Gold buses in its fleet.
The bus is part of a larger family of Caetano zero-emission urban mobility vehicles, many of which have already been delivered to several Portuguese cities.
Caetano H2.City Gold: Hydrogen in, water out
H2.City Gold is the new hydrogen-powered Caetano electric bus. Presenting a high environmental performance with no CO2 emissions, this vehicle takes advantage of the best of Toyota technology and our engineering capacity. Thanks to the fast charging time and the high autonomy of the vehicle, bus operation is not limited, a major advantage for the operator. H2.City Gold has an autonomy of 400kms on a single refill, a differentiating feature in the fuel cell buses market.
It also stands out for its high modularity, comfort, safety and user-friendliness. Available in 10.7 or 12m, LHD and RHD versions, it is easily adaptable to any urban environment.
Fuel tanks are stored on the vehicle roof, meeting the safety requirements. The vehicle is equipped with hydrogen leakage sensors in the fuel cell and hydrogen tanks.
Like the 100% electric bus, this model can also be fitted with a wide range of safety features to ensure the comfort and safety of passengers.
This is an innovative product that reflects the economic and environmental benefits of hydrogen towards a decarbonized society. This is another significant step forward in the development of mobility solutions for zero-emission public passenger transport.
You are welcome to visit us at stand 903a – Hall 9!