CaetanoBus presents the new 100% electric city bus, a green solution for cities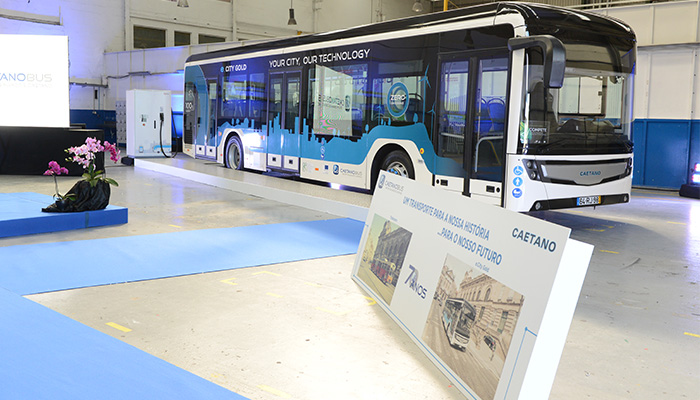 The launch ceremony of the new 100 % electric city bus took place in CaetanoBus, Vila Nova de Gaia, and was presided by the Secretary of State for the Environment, Mr. Carlos Martins. Several municipalities looking for green solutions for urban transport have attended the event.
e.City Gold is the new 100 % electric city bus completely developed in Portugal by CaetanoBus, in partnership with Siemens and several institutions of Porto University. This bus will be circulating in several Portuguese cities as Guimarães, Coimbra, Lisbon, Braga and Oporto. This is a clear sign that municipalities understand electric mobility as a solution to address the main problems of urban mobility.
For Mr. José Ramos, President of Salvador Caetano Industry, "only the combination of ambitious environmental policies, technological innovation and the change of the habits of society will make the sustainable mobility possible.
The Secretary of State for the Environment challenged the Portuguese municipalities to support these projects, hoping that "soon we can see this bus on the roads of our cities."
e.City Gold is the result of the combination of the wide experience in the development of city buses with aluminum body and the new generation of Caetano vehicles with eco-friendly engines. With a high passenger capacity and adapted to people with reduced mobility, the e.City Gold stands out for its zero emission and silence, fulfilling the highest standards of design.
For almost three decades that CaetanoBus studies, develops and tests electric mobility as an efficient solution for public transport. In 1984 were developed the first trolleybuses for the electrified circuit of Oporto and Coimbra. Recently, CaetanoBus, also in partnership with Siemens, was responsible for launching the first 100 % airport electric bus, with units already in operation. This technology has been tested in the major European cities such as Stuttgart, Geneva, Vienna, Helsinki, Amsterdam, and in other Portuguese cities.
Between 2010 and 2015 the company invested directly and indirectly about 7 million in Innovation & Development projects related to electric mobility, making a strong commitment to Portuguese engineering and specialized training of its technicians.