Abellio London Bus orders 34 CAETANO electric buses for its TfL operation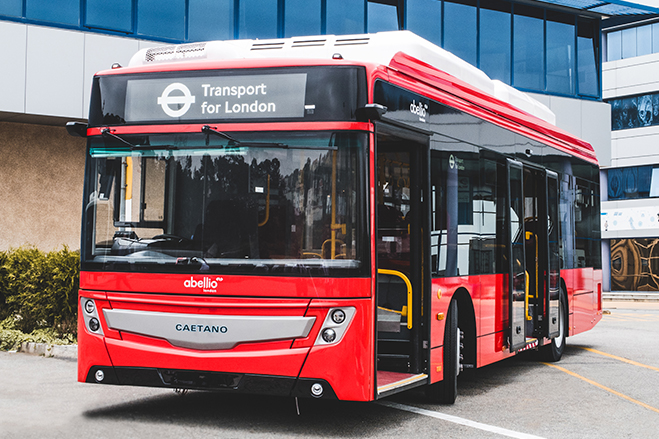 Abellio has confirmed an order for 34 Caetano zero emission, electric buses to strengthen its fleet in London. The new buses will enter service from March 2020. This will be the first Caetano electric bus for the UK, reinforcing the already strong presence of the brand in this market.
Abellio has ordered the Caetano e.City Gold in 10.7m form that offers a capacity for 60 passengers with complete low floor throughout. It is a 100% electric urban bus that includes zero emission heating and has been developed by CaetanoBus to fully comply with TfL's latest specification.
In addition, the new buses will include a number of features from the new TfL Bus Safety Standard such as a Camera Monitoring Systems to replace traditional wing mirrors, Intelligent Speed Assist, Acoustic Vehicle Alert System and a revised front design to improve pedestrian/vulnerable road user safety.  The bus is part of a wider family of zero emission urban mobility vehicles developed by CaetanoBus, many of which have already been delivered to several Portuguese cities.
The vehicles will operate on two contracts, routes C10 and P5, which Abellio will run on behalf of Transport for London.
Tony Wilson, Managing Director of Abellio London said "We are delighted to be working with Caetano on this exciting project to bring their e.City Gold vehicle to the London market.  The bus will deliver a step change in safety, driver and passenger comfort, whilst allowing Abellio to introduce zero emission electric vehicles to the fleet as we work with TfL to improve air quality in London"
Claire Mann, TfL's Director of Bus Operations, said: "Red buses are an iconic and vital piece of London, and they're increasingly going green. We're delighted that Caetano has taken advantage of our Bus Safety Standard by incorporating advanced safety features to these new zero-emission vehicles before they are required, and we welcome them back to London's streets."
Jorge Pinto, CEO of CaetanoBus said "This delivery of our e.City Gold to London is a big step towards our commitment to provide a safer and cleaner transport solution to our Customers. We are very proud to have been selected by Abellio and to extend our zero-emission product portfolio for UK market."
The United Kingdom is a key strategic market for CaetanoBus, where it has been supplying buses and coaches for more than 50 years. There is currently a significant presence of the Levante model / Coach which has received the GOLD AWARD in the "Making Coaches a Better Choice" category by UK Coach Awards 2018.
Abellio London bus operates bus services across London on behalf of Transport for London, plus rail replacement and event services across the UK. It operates over eight per cent of London bus network, running 700 vehicles and employing 2,500 staff across 6 depots in Central, South and West London.
It is part of the Abellio group, believes that public transport is a vital part of community life and aims to offer easier journeys, every day, through providing a professional and high quality service. Abellio London Bus won Best London Depot at the UK Bus awards in 2018, won the Most Innovative Transport Project at the London Transport Awards 2019 and has been selected as a finalist in the Best Use of Technology for the Route One Awards 2019.
Abellio UK is a transport operating group with offices in Glasgow and London. It operates the ScotRail, West Midlands Railway and Greater Anglia franchises, and runs the Merseyrail concession in a joint venture with Serco. It will commence the East Midlands Railway franchise in Summer 2019 making it a true force for progress and prosperity in the UK. The driving purpose is delivering easier journeys for customers, every day. Abellio is a wholly-owned subsidiary of Nederlandse Spoorwegen (Dutch Railways).